What you see is what you get
Here you can purchase the fish that is pictured in the listing. It truly is what you see is what you get!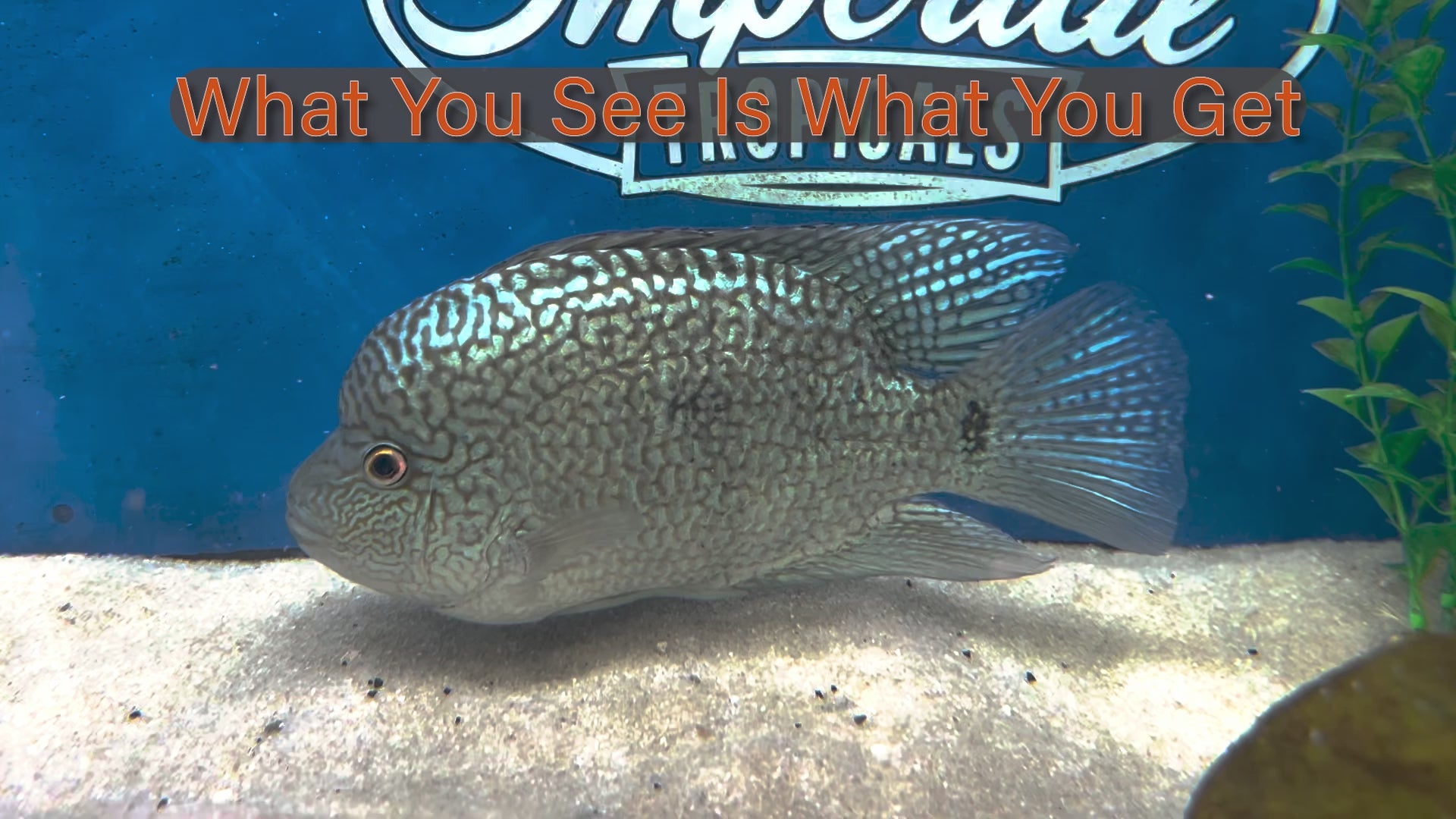 WYSIWYG Electric Blue Texas Cichlid
Regular price
$0.00
Sale price
$129.99
Unit price
per
Sale
Sold out
Share
View full details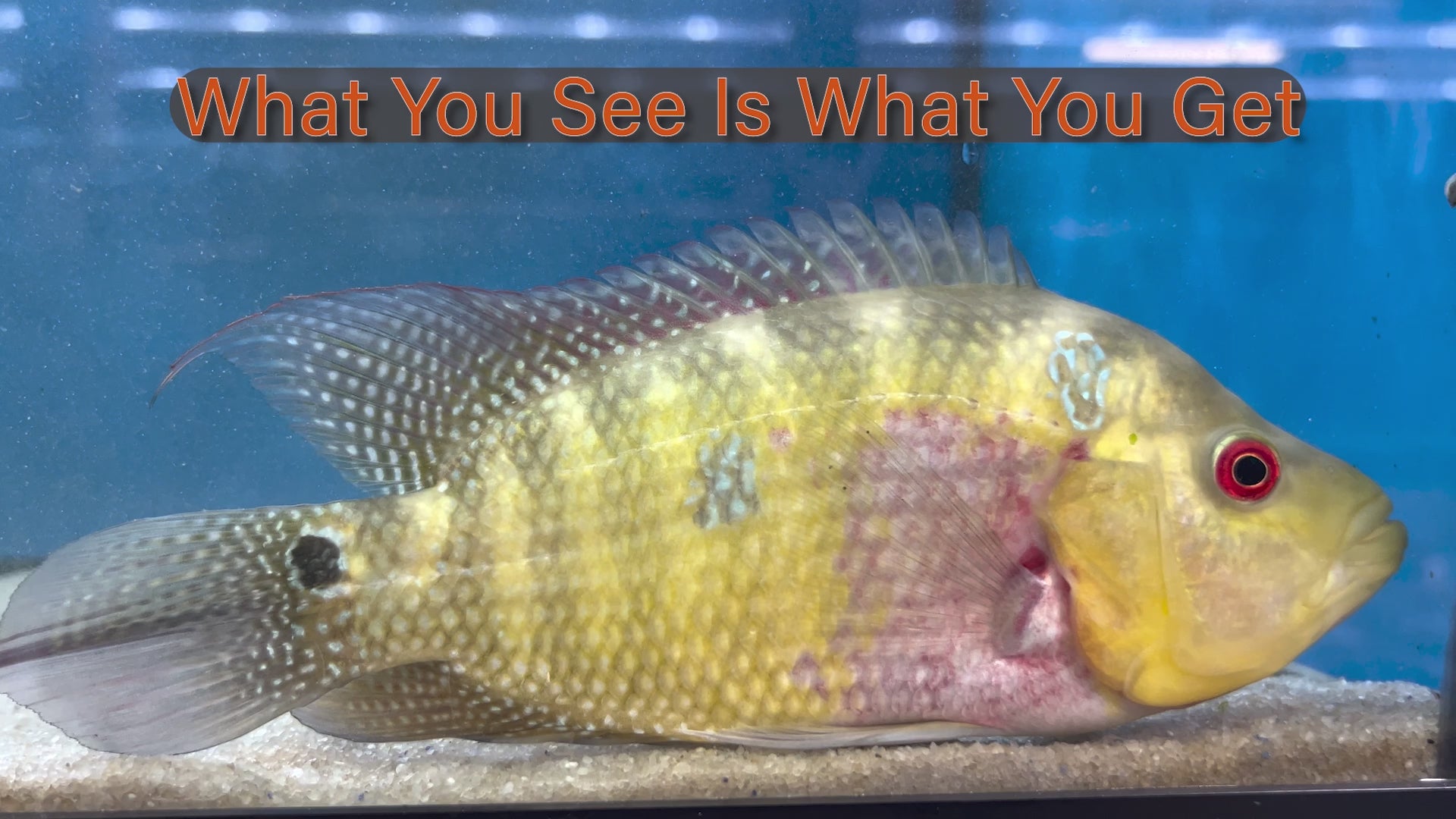 WYSIWYG Trimac
Regular price
$0.00
Sale price
$129.99
Unit price
per
Sale
Sold out
Share
View full details
Frequently Asked Questions
What are your hours?

We are open Monday through Friday from 8am to 3pm. We are not available on weekends. Please be advised that we are not currently open to the public, except by appointment after placing a local pick-up order.
How do you package live fish?

We carefully catch each fish and ensure that it is healthy and free of disease or deformity. The fish are placed in bags containing a light dose of stress-reducing medication and a small piece of filter to absorb waste. The bags are oxygenated and tied or rubber-banded, then a second bag is added to reduce the likelihood of spills and leaks. The bags are placed systematically in a box size comfortable enough to house the entire order, and newsprint is used as extra insulation, space-filler, and water absorbent.
When will my order be shipped?

Orders are shipped in the order that they are placed. Typically, orders are shipped within 2-4 business days (not including weekends). Some potential delays may occur, including weather delays, inventory changes, and variations in the quantity of orders. We will do our best to provide you with details if a delay is encountered.

If you would like a specific delivery date, please place your order at least 3 days in advance of your shipping date and include a note or follow-up email with your requested delivery date.
I paid for "Overnight Delivery" - why does it take 48+ hours to receive the fish?

Delivery methods do not account for handling times. "Overnight Delivery" refers to the time between leaving our facility and arriving at your address. We may not be able to ship the order immediately after receiving it.
My package has been delayed - will the fish be alright?

We ship hundreds of packages a week, and most are delivered without any issues. Unfortunately, some unexpected delays during shipping may occur. We package our fish with the intention of them surviving for 2-3 days in the box, and in some cases, even longer.

We will do our best to contact the shipping company and have them deliver the package as quickly as possible. When it arrives, please document any issues according to our DOA policy in order to receive credit.
Where do you ship your fish?

We offer shipping to any residential or business address in the United States, Puerto Rico, and Canada.

Shipping to Alaska, Hawai'i, and Canada is subject to delivery time estimates, as some locations may be unable to receive fish overnight. When delivery is not available overnight, the order may be cancelled if the temperatures are not suitable for multi-night travel. 

Shipments to Alaska, Hawaii, and Puerto Rico are subject to a flat rate of $49.99. Shipments to Hawai'i require a valid Agricultural Import Permit. Shipments to Canada are subject to a flat rate of $59.99, as well as duties and taxes. These will be calculated at checkout.
Who are the package handlers, and where can they deliver?

We ship primarily using UPS. We may use USPS depending on the order and delivery time. UPS does not deliver to PO Boxes, so please use a physical address for delivery. You may also call UPS with your tracking number and request that they hold the package at one of their pick-up locations. 
Can I pick my fish up?

We offer local pick-up for any order. Please place your order using the Local Pick-Up shipping option during checkout, then we will send an email asking about your preferred pick-up date. We will finalize the details with you and have them ready for contact-less pick-up.  
Is there a minimum order?

The minimum order for any shipping location is $50. This value is taken after discounts and credits have been applied.
How do I buy fish?

Fish may be ordered directly from the website. We organize our fish into categories, such as African Cichlids or Tetras. When viewing a fish, there will be variants, such as size, sex, and quantity.

Size is listed in inches and measured from tip to tip. 3-4" means three to four inches, 1.5"+ means 1.5" or greater, typically within an inch.

Sex is listed as Unsexed, Male, Female, or several combinations. Unsexed means the fish is not able to be sexed at that size or we do not guarantee sexing. We are happy to take requests for specific sexes. Male and Female fish will be listed as such. Combinations include Pair (one male and one female), Trio (one male and two females), and Breeder Packs (one male and three females).

Quantity is 1 fish unless otherwise noted (Pair is 2 fish, etc.). When greater than 1 fish, quantity will be listed inside parentheses. (6) 1-2" Unsexed means "six unsexed fish between one to two inches."
Will my fish look like the picture?

The majority of fish on our website will not look like their photos upon their unboxing. Fish change in appearance depending on many factors, including mood, age, gender, and social status. Fish will naturally lose color during shipping and may appear faded upon arrival. Pictures are used as examples only. Pictures may be of mature fish with full color or juvenile fish without color. We encourage you to research the species as much as possible prior to ordering in order to familiarize yourself with the various appearances they may take on. Many species have females that look drastically different to their male counterparts, and many juveniles will not have as much color (or different colors) as their adult forms. If you have questions about how the fish will look, please review their information and email us if you have any questions.

We are also often asked for certain sexes with unsexed fish. Yes, you can request certain sexes in the "NOTES" section at checkout, or via email after ordering. We will do our best to fulfill these requests, HOWEVER, we do not guarantee that these requests will be honored. Due to the overwhelming number of special requests that we receive, we also cannot guarantee that we will contact you regarding your request if it cannot be granted. We can only promise that we will send you the items matching what was listed on the website.
Can I make changes to my order after placing it?

We realize life events, tank issues, and other scenarios may arise that necessitate an order change or cancellation. Unnecessary movement of fish can cause significant stress on them however. Orders canceled within 24 hours of shipping will be subject to a 10% restocking fee, calculated based on the order total. Removal of item(s) from an order within 24 hours of the shipping date will be subject to a 10% restocking fee, calculated based on the item(s) removed. Addition of items is accepted but not guaranteed, as the order may be packed already and we are unable to re-open the box before the carrier arrives.
How do I know which fish can go together in the same tank?

You can research the product descriptions on our website and use Google search to help decide which fish can go together. PLEASE do your research and email us if you have any questions. We also have a private Facebook group customers can join called Imperial Tropicals Fishkeepers Group. You can click on the underlined link to join !  This group is a great way to learn from very knowledgeable fishkeepers. We do not accept any responsibility of fish losses or fish issues from customers once they receive the fish ordered and do not notify us of an issue the day that they arrive. 
Can you hold my order until my tank is ready?

We cannot guarantee the availability of fish beyond one week from receiving the order. If we sell out of your fish, we try to receive more from our suppliers, but we cannot guarantee it. Items missing from your order will be credited or refunded, and we will do our best to communicate these issues with you prior to shipping.
My order was missing items – are they coming separately?

If you believe you are missing an item for your order, please thoroughly check the box. Often, bags may be hidden under insulation. If you cannot find the item, please contact us immediately with a brief description. In the event of a missing item, store credit or a refund for that item will be offered. If you believe there are fewer fish in the bag than you ordered, please document the unopened bag with a video or pictures clearly showing the number of fish. Send this documentation to us within 2 hours of delivery.
Do you charge a fee for order cancellations?

Yes, we charge 10% of the total amount of the order as a cancellation fee. All orders placed are automatically processed by our secure merchant processor and sent to the shipping department as they are placed. During this process we incur irreversible fees from the payment providers and additional work by our staff.
What if the fish I ordered doesn't look right?

We have a 3-person quality control team to find any issues with your fish prior to shipping them out, including deformities, incorrect species, or size discrepancies. If you believe something slipped through the seams, please contact us immediately upon receiving your order with a description of the issue and photos and/or videos of the issue.